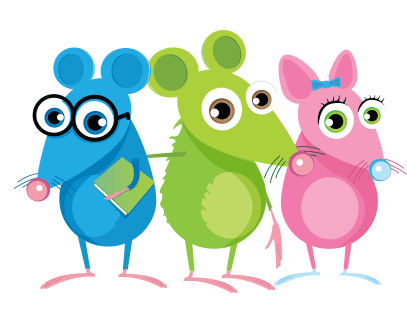 RAT Bucks
The problem with most school fundraisers is the lack of participation. Ask any principal or PTA or PTO board member. Participation rates have been dropping and that in turn has had a negative effect on fundraising results.
We want every group member to participate in a read-a-thon. So we created an incentive called RAT Bucks.
Readers earn RAT Bucks for every sponsor they sign up. The reader gets 100 bucks for each of their first 5 sponsors no matter how much the sponsor donates. We are looking for the greatest number of sponsors not necessarily the highest donations. We understand we have little impact on how much a donor donates but we can encourage readers to contact as many potential sponsors as possible.
To further encourage readers to get more sponsors we offer lots of bonus package. Here are some of the bonuses:
5 Sponsor Bonus: When a reader gets their 5th sponsor we will give them a 200 Buck Bonus. We send daily emails to readers showing them how close they are to earning this bonus. The information is also at the top of their personal reader page.
10 Sponsor Bonus: When a reader gets their 10th sponsor we will give them an additional 500 Buck Bonus. If the reader has already received their 5 sponsor bonus the system will remind them how many sponsors are needed to earn the bonus.
Kick Off Video Bonus: We currently offer 1 kick off video for groups to use to promote their read-a-thon. If your customer plays the video each of their readers can earn 100 free RAT Bucks by simply creating their personal page within 24 hours of viewing the video. No prizes will be given if the group raises less than $100.
To further encourage readers to get more sponsors we made the value of each sponsor progressive. Here is what each sponsor is worth in RAT Bucks:
Sponsors 1 - 4 are worth 100 RAT Bucks each
Sponsors 5 - 9 are each worth 125 RAT Bucks
Sponsors 10 - 14 are each worth 150 RAT Bucks
Sponsors 15 - 19 are each worth 200 RAT Bucks
Sponsors 20 - 24 are each worth 250 RAT Bucks
Sponsors 25 and up are each worth 500 RAT Bucks
At the end of your group's Read-a-thon each reader will have 10 days to spend their RAT Bucks in their own personal Prize Center. View a sample prize center.
Please become well versed with RAT Bucks and how they are used as incentives for readers to gather the most sponsors possible.