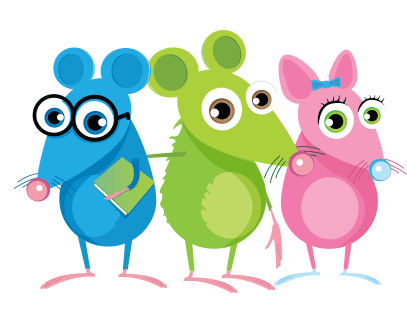 Read-a-thon or Boosterthon?
Over the past few years we've been contacted by more and more schools that had previously held a Boosterthon fundraiser and were wanting to try something different.
Lots of reasons were given for wanting an alternative. So we decided to create a web page that discusses the differences between the two programs so you can make an informed decision on which one would work better for your school or PTA/PTO.
Elementary School Fundraising Needed to Change
Historically elementary schools raised money by either holding a product fundraiser or holding an event like a school carnival. Over the years both produced decent results but there was a definite downside to each option.
Product fundraisers started to produce diminishing results nearly 10 years ago and little has changed since. The basic complaint is that no one want to sell overpriced products that people really don't want to buy. As for the carnivals, the volunteer time commitment and resources simply became unbearable as more parents went to work and schools found themselves with few volunteers to handle increasing requirements.
Enter Readathon and Boosterthon
Both companies were created by people who recognized that there was a problem with elementary school fundraising. Both felt like they had a better idea. The fact is that both are better than product fundraisers and carnivals as far as the amount of money a school, PTA or PTO can raise. But they are as different as night and day.
So let's compare some of the major differences:
How Much Does the Company Charge You?
One of the most notable differences between the two companies is the percentage of donations paid to the company instead of your school or group. Read-a-thon charges 10%. Boosterthon says their fees vary on their site but a little research shows that most schools pay between 40-50% of money raised to the company.
Now there are good reasons why Boosterthon is more expensive. For one, they are on campus, and, for the most part, they run your fundraiser. But Read-a-thon produces similar results and charges a whole lot less.
How Are You Raising Money?
Both companies have the same theory. Basically we believe that people are happy to support a child who participates in a self improvement program or project. Boosterthon focuses on physical activity. Think Fun Run. Read-a-thon focuses on reading.
The two companies approach sponsors differently. Boosterthon follows the old pledge method where kids tell people they intend on completing a certain number of units and ask for a pledge for each completed unit. Read-a-thon asks for an immediate donation to support the reader's pledge to complete 10 reading sessions. By using the donation only method there is no drop off in expectations when people who made pledges never actually pay.
Time Spent on the Fundraiser
This is an area where the two companies go in different directions. So which is the better fundraising idea?
Boosterthon basically moves on to your campus for a couple of weeks during the lead up to your actual fun run. They hold your kick off and they rally your students in the class room. They have their own tried and proven methods to encourage your students to raise more and more money. Some people take offense by the intense pressure while others complain about the time taken away from school work by the Boosterthon staff and it's program.
Read-a-thon provides a non intrusive way to monetize something all students should already be doing. The program revolves around 10 reading sessions that can be held in a class or assigned to the students to be held at home.
Getting Sponsors
Read-a-thon has completely revolutionized the way school fundraisers identify and attract sponsors. Read-a-thon helps parents reach out to hundreds of potential sponsors in less than a few minutes. Sponsors are invited to learn about the reader and their project online where the sponsor is asked to make a small donation to support the reader's efforts.
Boosterthon coaches and encourages kids at school to get hold of as many people as possible to get pledges for the fun run. It's up to the student to follow through and, like product fundraisers, most sponsors live near the reader.
Read-a-thon opens up the universe of potential sponsors to anyone you have an email address for or are part of your social media universe. There is no pressure at the school for the child to do anything more than build a personal Read-a-thon page and get their parents to use the online tools to promote their fundraiser. That's it.
Bottom Line - Which is the Better Fundraiser?
The bottom line is that both are great resources for any school, PTA or PTO.
We obviously feel Read-a-thon makes the most sense for an elementary school. Here are the major reasons we believe that:
1. Your kids are already reading so why not monetize what you are doing instead of adding to your workload.
2. Read-a-thon gives you real time reporting. You can see donations as they are made. You have all the information you need to manage your fundraiser right at your keyboard.
3. Read-a-thon received donations from 15 different countries last year. Our program opens up the widest possible universe of potential sponors.
4. Profit percentages are radically different between Read-a-thon and Boosterthon. At Read-a-thon you can choose a few different programs. Two offer 80% profit and still include a complete starter kit with everything you need to hold your event plus prize certificates. If you choose our prize store, the school keeps 75% of donations and readers keep 15% of their personal donations to spend on prizes. That means 90% of the money raised is credited to either the school or readers (the reader portion must be spent on prizes). Boosterthon keeps 40-60% of the money you raise according to schools providing data to us.
5. Improved reading skills is one of the main goals of every school so why not align your fundraising with meeting a school goal?
6. We collect all the money online for you so the kids don't need to ask for or handle money ever.
Here are some great resources to learn more about whether a Read-a-thon makes sense for your school:
See how much money your school can raise with our Read-a-thon calculator: Click Here
Get the answers to your basic questions in our Read-a-thon FAQ section: Click Here
Get a brief explanation of how our Read-a-thon system works: Click Here
Check out a sample prize store: Click Here