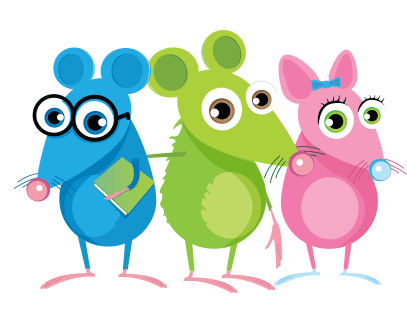 Privacy Policy Overview for Schools and Fundraising Groups
You are on our privacy policy page. It contains a lot of verbiage so we thought it would be beneficial to add this short section to address the main concerns for most schools.
How is collected data used? Read-A-Thon asks for the least amount of data possible when fundraising groups use our services. That data is used exclusively to build a couple of things. First, we create an account for the school. We simply ask for school and address. That information remains in our system so your group can sign up again in the future. We then ask for some basic information to create a one-time event. That event data is only accessible by the creator of the event and is destroyed shortly after the event is completed.

No data is ever shared or sold to any other entity.

Can parents request deletion of reader data? Reader accounts do not exist if a parent of guardian does not activate their reader's account. Once created we do honor requests to delete data. To insure we do not affect school data we simply replace the reader's name and any other personal data entered by the parent with organic, unidentifiable replacements.
What happens if there is a breach on www.read-a-thon.com? If the company identifies or is notified of a breach technical support will immediately act to identify the nature of the breach and perform corrective actions which include adding code to eliminate the possibility of future identical breaches, restoring data from one of multiple secure backup and notifying any individual or group that might have been compromised. The good news is that we do not store any credit card data on our site so no financial information can be breached.
Are student data transfers encrypted? We do everything we can to secure student or reader data including data encryption.
Is data retention for school purposes only? The only data we retain about a school is the school name, address and phone number. Most data we collect is event specific and event data is destroyed at regularly scheduled times once events are complete.
Is student data protected? The only student data we collect is provided by parents or guardians. The only access to that data is through encrypted links provided to the parents and schools. The only required information to activate a reader account is the parent's email. And we do honor requests to delete data made by parents.
COPPA – Children's Privacy
We do not knowingly collect any information from children under the age of 13 in the United States. Our website instructions are clear that we expect an adult parent or guardian to provide any of the limited information we request about a student which includes at most a name or partial name, a parent or guardian email, a photo if desired.
We collect only as much information as is necessary to provide the service and the client may access, delete or withdraw consent for continued processing of the child's information at any time. If you have any questions about reviewing, modifying, or deleting personal information of a child under the age of 13, please contact your educational institution directly.
We honor all requests by parents or guardians to remove any previously provided data.
Once at event has been completed we will destroy all student-related data.
Please contact us at sales@read-a-thon.com if you believe we have inadvertently collected personal information from a child under 13 without proper consent. This will allow us to delete such information as soon as possible.
FERPA and State Education Privacy Laws
We provide an online reading fundraiser to schools and other educational institutions. While we collect very limited data about student or readers, we DO NOT collect educational records governed by the Family Educational Rights and Privacy Act (FERPA).
We take privacy very seriously and do our best to meet or exceed the provisions of FERPA, the Children's Online Privacy Protection Act ("COPPA"), and other applicable laws that relate to the collection and use of personal information of students. If you have any questions about reviewing, modifying, or deleting personal information of a student, please contact your educational institution directly.
Your rights
In many jurisdictions, you have rights to control how your personal information is used. You may have the right to request access to, rectification of, or erasure of personal information we hold about you.
You will be able to access your information as well as change and delete some of the information yourself by logging into your account. If you cannot access, correct, or delete the required information yourself, email us at sales@read-a-thon.com.
Please remember that many of these rights are not absolute. In some circumstances, we (or your institution) are not legally required to comply with your request because of relevant legal exemptions.
In many jurisdictions, you also have the right to lodge a complaint with the local data protection authority. But please contact us first, so we can address your concern.
Complete Privacy Policy
We provide an online reading fundraiser to schools and other educational institutions.
Information Collected
Like many other internet-based services, Read-a-thon needs to collect some information from our users and their usage so we can provide you with the high-quality experience you expect from us. Rest assured, we make every reasonable effort to ensure that our app(s) and service(s) are secure and private in accordance with our promise and our policies. The information we collect (whether through our own means or through trusted third parties, as explained below) can be in the form of:
Personal information you submit while creating an account with Read-a-thon or while using our service;
Automatically collected information; and,
Information from other sources.
Personal Information
We collect personal information when you register through our website. Personal information is any information about you that is personally identifiable—such as your name, email address or photo.
If you send email invitations to friends or family to join your Read-a-thon network, those email addresses are, in some instances, also collected.
Other information that is stored in our service when either parents or teachers use our site, includes but is not limited to: school and class information, including name names.
Some states or local school districts may require administrator approval and access to the data for services teachers or students use. That is why we require a parent of guardian to activate any public facing account created for a student or reader.
Automatically Collected Information
When you use our site we, or our authorized third party service providers (explained below), may also collect information relating to your devices—including your device type and model, operating system, browser type, unique device identifier, IP address, device address or ID, mobile phone number, mobile network carrier, location, event information (such as application installations), and/or the web pages or sites that you visit just before or just after the service, the pages you view on the service, and the dates and times that you visit, access, or use the service.
We may also automatically record certain information from your web browser by using different types of technology, including "clear gifs", "cookies" or "web beacons." This information is gathered for all users.
Cookies and Similar Technologies
We use cookies (pixel tags, and/or other similar technologies) to collect visitor information. Cookies are alphanumeric identifiers that we send to your computer's hard drive through your web browser. We may use both session cookies and persistent cookies. A session cookie disappears after you close your browser. A persistent cookie remains after you close your browser and may be used by your browser on subsequent visits. Like many services, we use these technologies to tailor the Apps for you, and to help the Apps work better for you - for example, for authentication, security and site integrity, localization, performance analytics, and other features and services. It is possible to delete cookies or prevent cookies from being used in your browser by turning the feature off. If you do so, you may not be able to use features of our service to their full potential.
What Does That Mean to You?
We need some information to provide you with the best experience possible, and we will make every reasonable effort to keep that information private and secure. There are three types of information we collect: Personal information you submit; automatically collected information; and, information from other sources.
We collect the information you submit while parents are registering for a Read-a-thon account for their reader or through its use, including your school information, posts and messages sent through Read-a-thon.
We collect information using our own or third-party technology (including cookies) to provide you with the best experience possible.
We may use other sources (third party) to complement the information you provide to us to better serve your needs.
We offer a range of features that use technologies like cookies, pixel tags ("pixels"), device or other identifiers and local storage to provide a seamless and safe experience.
Authorized Third Parties
Providing a great experience is our outmost priority. To do so, we work with third-party vendors, service providers, and other partners to help us provide the service by performing tasks on our behalf. We may need to share or provide information (including personal information) to them to help them perform these functions, for example: sending emails on our behalf, database management services, database hosting, providing customer support software, and security. These service providers do not have the right to use your personal information we share with them beyond what is necessary to assist us with our business functions. Additionally, these service providers must adhere to confidentiality and security obligations in a way that is consistent with this Privacy Policy.
We may also work with third-party service providers to monitor certain pages of our apps for such purposes as reporting activity in our app. Where authorized by us, these third-party providers may use cookies and/or other monitoring technologies to compile anonymous statistics about our users. No personally identifiable information is transferred to these third-party service providers. While this information may be collected directly by the third party, Read-a-thon ensures it will do so in a manner that is consistent with this privacy policy and our terms of service.
Use of Information
We use your information for the following general purposes: to operate, maintain, and improve our services and apps, to contact you, for internal business purposes.
We use third-party information you provide to us solely to provide services you specifically request.
We also use the information that you provide and that we collect to understand and analyze the usage trends and preferences of our users, to improve our product, and to create new features and functionality. Some reports about usage by the members of a group are also displayed to teachers and school or group administrators to provide them with analytics they can use for decision making.
We may use your information to personalize our services, such as remembering your information so that you will not have to re-enter it during your visit or the next time you visit the apps and serve you relevant content, and information; monitor and analyze the effectiveness of our services; monitor aggregate site usage metrics such as total number of visitors and pages viewed; and track your entries, submissions, and status in any promotions or other activities.
We will never use students' personally identifiable information, or collect, use, or share such information for any purposes beyond the authorized school purposes, or as explicitly authorized by the student or parent. We will never target advertisements to students or sell students' personally identifiable information to third parties for any purpose.
We do not sell or disclose personally identifiable information to nonaffiliated parties except in connection with our services and the operation of our business as explained in this policy and our terms of service.
You may decline to share certain personally identifiable information with us, in which case we may not be able to provide to you some of the features and functionality of the service. You may update or correct your profile information and preferences at any time by accessing your account preferences page through the service.
Disclosure of Information
We do not sell or disclose your personally identifiable information to nonaffiliated companies or organizations.
Children's Privacy & COPPA Compliance
The Children's Online Privacy Protection Act (COPPA) protects the online privacy of children under the age of 13 and requires Read-a-thon to obtain parental consent or notice prior to the collection, use, and disclosure of that child's personal information. Parents can withdraw consent for the further collection of their child(ren)'s information at any time. If you are aware that Read-a-thon is collecting information from a student without parental consent, please contact us immediately at sales@Read- a-thon.com and we will take action according to this policy and our terms of service.
Read-a-thon obtains parental consent directly from a child's parent when the parent (and not the teacher) sets up their child's account.
NOTE: Schools in different countries and communities have different regulations and approaches, and Read-a-thon cannot advise you on compliance with the laws applicable to your school. You should obtain any parental consent that may be required by your school (including for COPPA and FERPA) in a manner that complies with the laws of your jurisdiction.
By requiring educators and/or parents to provide consent to the use of student information, Read-a- thon is COPPA compliant.
How long does Read-a-thon retain information?
We will only retain your information for as long as it is necessary for purposes directly related to a specific fundraising event or legal obligations, or to provide the Service for which we receive or collect such information. Unless required by law, our data retention policies include:
Our Commitment to Data Security:
We use certain physical, managerial, and technical safeguards that are designed to improve the integrity and security of your information. As is the case with other online services, however, we cannot ensure or warrant the security of any information you transmit to us or store on the apps and you do so at your own risk. We also cannot guarantee that such information may not be accessed, disclosed, altered, or destroyed by breach of any of our physical, technical, or managerial safeguards. If we learn of a security systems breach, then we will attempt to notify you electronically and post a notice in our app so that you can take appropriate protective steps.
Similarly, although we may allow you to adjust your privacy settings to limit access to your information, please be aware that no security measures are perfect or impenetrable. We cannot control the actions of other users with whom you may choose to share your information. Therefore, we cannot and do not guarantee that information you post on the apps will not be viewed by unauthorized persons. We are not responsible for circumvention of any privacy settings or security measures contained on the service. You understand and acknowledge that, even after removal, copies of information that you have posted may remain viewable in cached and archived pages or if other users have copied or stored such information.
Updates to Privacy Policy
We may modify this Privacy Policy from time to time by posting updates on this page. In the event that the modifications materially alter your rights or obligations hereunder, we will make reasonable efforts to notify you of these changes, at least 30 days in advanced, via email, if we have one on file. Our amended Privacy Policy will automatically take effect at the announced effective date. If you do not agree with any changes to the Privacy Policy, you may terminate your account and stop using the apps. Your continued use of the website after the revised Privacy Policy has become effective.
Questions and Suggestions
If you have questions or concerns about this Privacy Policy, you can contact us at sales@read-a-thon.com.