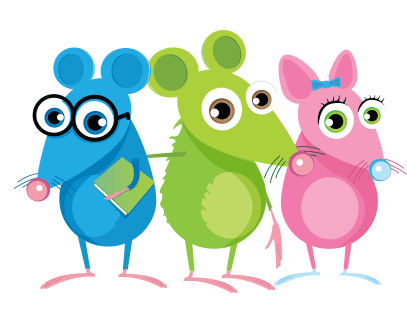 Elementary School Fundraising Ideas
There is at least one thing all elementary schools in America should have in common - they should all want their students to become better readers.
The fact of the matter is that reading is one of the most important skill sets students will learn. Kids that don't learn to read well can find themselves at a serious disadvantage later in life if not in school itself.
That's why we think every elementary school should consider holding a read-a-thon every year. Here's why:
The Best Elementary School Fundraising Idea Ever
Why do we think we have the best elementary school fundraising idea? The obvious reason is that Read-a-thons promote reading. The more you promote reading the more awareness your teachers, students and parents will have of its importance. If your students know reading is important to everyone at your school they are more likely to take reading serious.
Our read-a-thon program provides a way for your school to hold an exciting read-a-thon fundraiser that will raise lots of money by incentivizing participation in a reading event. Your students will be challenged to complete 10 reading sessions. You can decide what they will read or you can let them read whatever interests them the most. The key is to make sure everyone knows that your focus for two weeks will be on reading, reading skills and reading comprehension.
Are there any other elementary school fundraisers you can think of that incorporate educational sessions as the main attraction to raise money with? We don't think so. We believe people are growing tired of the same old cookie dough, gift catalogs or candy.
Why Other Elementary School Fundraisers Fail
I'm sure you already know more than you want to know about all of the typical elementary school fundraising ideas so we won't spend a lot of time detailing each of them. Actually, we don't need to. Most of the historical choices are failing for the same few reasons.
1. People are burned out on fundraising in general. Unfortunately burn out feeds upon itself. Think about it. Your school sells cookie dough and the sale doesn't go as well as you'd hoped. You raise $4,000 but you need $10,000. So what do you do? You hold some more fundraisers. But your supporters are already growing weary about being asked to buy products so each subsequent fundraiser is worse than the previous.
2. People are tired of overpaying for products. We recently reviewed a cookie mix program. In fact our sister company has decided to add it to its product line. The program includes around 10 different cookie mixes that sell for $10 each. But what are your customers getting for $10? They get a bag of cookie mix that makes a couple of dozen very delicious cookies. But if you take a walk down the right aisle at a Wal Mart you'd probably see similar products that sell for a couple bucks. You get the idea.
3. The last reason most traditional elementary school fundraising ideas fail is the lack of visibility. Let's give the typical group the benefit fo the doubt and say they really do want to run a successful fundraiser. Most fundraisers work the same. The school gets brochures that they send home with the kids. Good schools will hold a kick off to get the kids excited. Some will offer prizes as incentives. But once the brochures go home there is no visibility into progress. You really don't know who is selling and what they've sold. So, at the end of the fundraiser, some of your kids bring their order forms back and you finally can see how the fundraiser went.
Read-a-thons Work So Much Better
Think about the family members and friends that would be happy to support one of your students when asked to donate money to encourage them to read for a couple weeks. We know there is general fundraising burnout among elementary and middle school aged students and their families. But we believe that has as much to do with the fact that most fundraisers really don't offer a compelling reason to participate.
Neighbors and friends might say no thanks when asked if they want to purchase some overpriced gift wrap. But how many grand parents, aunts and uncles or close friends would say no to offering financial support for your reader to participate in a reading program?
Our Readathon also increases the number of people who can and will support your elementary school fundraiser. How? Because our fundraising tools help your readers identify and then contact the best potential sponsors anywhere in the world. With a typical fundraiser you are limited to people who live close by. With our fundraiser the world is your limit. In fact we've received donations from nearly a dozen different countries. It is very common for readers to receive donations from family members who live in different states.
There are so many obstacles for most elementary school fundraising ideas to reach their potential. We believe our program allows you to leap those obstacles and raise more money than ever before.
Read-a-thons Change the Game
We know that just about every student in America has people who care about their education.
We provide state of the art communications tools for your readers to tell everyone they know about their reading adventure and ask family, friends and neighbors to support their efforts by making a pledge or donation. The reader is awarded RAT Bucks for each sponsor they get and they use those bucks to buy prizes after their read-a-thon is complete.
It sure seems like elementary schools raise less money because participation rates have been shrinking every year. Is that what has happened to your school or parent group?
If your elementary school fundraising ideas are growing stale isn't it time to step out there and try something different?
Our read-a-thon tools make this one of the most fun fundraisers available. From our unique reader avatars to our reading session timers and tools to locate the greatest number of sponors we believe you can raise more money for your school with our program than any other elementary school fundraising idea out there.
Things are changing quickly. Look at the way you do every day tasks now compared to just a few years ago. They've changed dramatically, haven't they? So why are you holding on to your old ideas.
We invite you to check out our read-a-thon calculator to see how much money your school can raise. Click here
If you are not convinced that Read-a-thon is the best school fundraiser available we suggest this site for product fundraising ideas.
Not Convinced? Here are Other Elementary School Fundraisers
1. Fit Kids Fitness Fundraiser: If your school isn't going to hold a read-a-thon then the next best fundraising idea might be a the new fitness fundraiser at Fit Kids. We are actually help develop this program that incorporates lots of fitness routines into fundraising. The great thing about this program is your group keeps 80% of the money it raises, no one takes over your class rooms or school and your students really learn fitness skills that will benefit them for years to come.
2. Book Fair: Lots of schools and school libraries hold book fairs every year. The school sets up a portable book store somewhere in the school. The students get money from their parents to spend on books and other small toys at the store. The school makes a small profit on every item that is purchased. The best known provider of book fairs is Scholastic.
3. Box Tops: This is a great program offered by General Mills. It's a smart move by the company to promote their brands in a cost effective way while giving the school the opportunity to raise some money. Basically the school gets families to buy General Mills producproducts and clip the Box Top logo on the packaging. The school gets a bit of money for each box top it collects. It's not a huge money maker but it's one of those fundraisers thatmakes no sense to ignore.
4. Cookie Dough Fundraiser: If you are one of the schools that still wants to sell fundraising products then consider selling something most everyone loves. That's one of the reasons that cookie dough fundraising has survived as long as it has. Basically each student gets a brochure that they show to friends and family. They ask those people to buy tubs or boxes of cookie dough. At the end of the sale the school places a bulk cookie dough order and makes a profit margin that is based on the number of tubs they've sold.
5. School Carnival: Years ago many schools or parent groups help carnivals.The school would plan all year for the event and would try to get as many activities as possible to make it the place to be for the students and their families. There were so many ways to monetize the event. The reason you see far fewer carnivals now is that they require an enormous amount of volunteers and volunteer hours and kids have so many more entertainment options now. But if you have the manpower a carnival could raise lots of money.
6. Color Runs: Color Runs are a fun twist to make fun runs more fun for schools and their students. On the day of their actual run the kids typically wear white tee shirts. As they run the course people will spray them with water based paints or throw water balloons containing paint at them. The run works like any other fun run. You raise money by getting sponsors to pledge money for each lap completed. The paint adds a fun twist though.
7. Bake Sale: Bake sales have been around forever and they are one of the best ways to raise money for your school. You do it in a couple steps. First send home a note to parents letting them know that you are planning a bake sale. Let them know you need them to do two things. First you want them to bake something good and bring it to the school before the actual sale. The other thing you want them to do is give their kids some money to spend on baked goods the day of your sale. Notice that there's no cost for the baked goods that you will sell to make money. You can't make higher profit margin than 100%.
Still Not Convinced This is the Best Elementary School Fundraising Idea?
Here are a few testimonials left by some elementary schools:
Gold Hill Elementary School
Love how fast you guys are at responding to questions. Thank you so much! 
$73,407.84
Sonoran Sky Elementary
Another amazing read-a-thon year in the books. This year we raised $58,600 and read over 650,000 minutes. Amazing!!! RAT is a no brainer when it comes to fundraising. Families, friends and the community are so willing to donate money to enrich literacy and education in our youth. It is such an easy ask that it is hard for anyone to say no. Most people dread fundraising and asking family or friends for support financially, but we had over 87% participation that were over the moon happy that we were reading to raise fund for our school. We would get emails and text message all week saying... My house is so quiet. Everyone is reading. Thank read-a-thin team for doing this fundraiser. Can we do the read-a-thon all year long, my child has never been so motivated to read in their life, but for a light up ring or Limo Lunch he can't seem to put the books down. Thank you for all the support
Raised $58,739.31
Morrisville Elementary PTA
The ENTIRE read-a-thon team was supportive and constantly available to help us with any questions or issues that came up during our read-a-thon. We look forward to holding our 3rd read-a-thon next year and utilizing the new 'reading adventure' themes!
Raised $43,413.00
Bess Campbell Elementary PTO
Campbell Elementary Loved the Read-A-Thon! The parents were happy, the teachers were happy and the students were able to focus on reading!
Raised $40,585.00
Richland Elementary
It was a great success as well as all the other years! We are so thankful for this opportunity that your company gives us. We look forward to doing business with you again next year!
Raised $37,534.00
Sharon Elementary
Our Read-A-Thon was very successful! Started off with some organizational hiccups - 2 teachers were left out of our shipment and had a glitch with student info pulling correctly on a tracking page - other than that, very easy to manage and the kids had a blast. Thank you!
Raised $37,445.82
Garden Ridge Elementary
Read-A-Thon was an amazing experience. The students had so much fun and our students were so excited about reading! We surpassed our fundraiser goal and it was so easy! The program is so organized and carefully planned out. The read-a-thon team is available to answer every question along the way. We will definitely host another read-a-thon next year.
Raised $36,680.32
Bathgate Elementary School Foundation
Read-A-Thon was a amazing way to get students to read and raise funds for the school! We have been amazed with our results and we look forward to doing it again next year. 
Raised $30,933.68