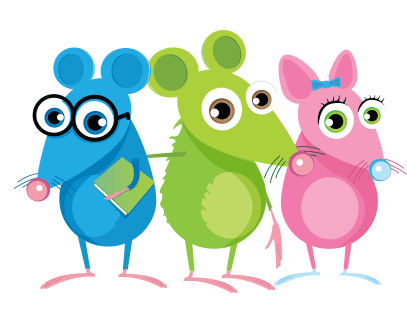 Elementary School Fundraising Ideas
There is at least one thing all elementary schools in America should have in common - they should all want their students to become better readers.
The fact of the matter is that reading is one of the most important skill sets students will learn. Kids that don't learn to read well can find themselves at a serious disadvantage later in life if not in school itself.
That's why we think every elementary school should consider holding a read-a-thon every year. Here's why:
The Best Elementary School Fundraising Idea Ever
Why do we think we have the best elementary school fundraising idea? The obvious reason is that Read-a-thons promote reading. The more you promote reading the more awareness your teachers, students and parents will have of its importance. If your students know reading is important to everyone at your school they are more likely to take reading serious.
Our read-a-thon program provides a way for your school to hold an exciting read-a-thon fundraiser that will raise lots of money by incentivizing participation in a reading event. Your students will be challenged to complete 10 reading sessions. You can decide what they will read or you can let them read whatever interests them the most. The key is to make sure everyone knows that your focus for two weeks will be on reading, reading skills and reading comprehension.
Are there any other elementary school fundraisers you can think of that incorporate educational sessions as the main attraction to raise money with? We don't think so. We believe people are growing tired of the same old cookie dough, gift catalogs or candy.
Why Other Elementary School Fundraisers Fail
I'm sure you already know more than you want to know about all of the typical elementary school fundraising ideas so we won't spend a lot of time detailing each of them. Actually, we don't need to. Most of the historical choices are failing for the same few reasons.
1. People are burned out on fundraising in general. Unfortunately burn out feeds upon itself. Think about it. Your school sells cookie dough and the sale doesn't go as well as you'd hoped. You raise $4,000 but you need $10,000. So what do you do? You hold some more fundraisers. But your supporters are already growing weary about being asked to buy products so each subsequent fundraiser is worse than the previous.
2. People are tired of overpaying for products. We recently reviewed a cookie mix program. In fact our sister company has decided to add it to its product line. The program includes around 10 different cookie mixes that sell for $10 each. But what are your customers getting for $10? They get a bag of cookie mix that makes a couple of dozen very delicious cookies. But if you take a walk down the right aisle at a Wal Mart you'd probably see similar products that sell for a couple bucks. You get the idea.
3. The last reason most traditional elementary school fundraising ideas fail is the lack of visibility. Let's give the typical group the benefit fo the doubt and say they really do want to run a successful fundraiser. Most fundraisers work the same. The school gets brochures that they send home with the kids. Good schools will hold a kick off to get the kids excited. Some will offer prizes as incentives. But once the brochures go home there is no visibility into progress. You really don't know who is selling and what they've sold. So, at the end of the fundraiser, some of your kids bring their order forms back and you finally can see how the fundraiser went.
Read-a-thons Work So Much Better
Think about the family members and friends that would be happy to support one of your students when asked to donate money to encourage them to read for a couple weeks. We know there is general fundraising burnout among elementary and middle school aged students and their families. But we believe that has as much to do with the fact that most fundraisers really don't offer a compelling reason to participate.
Neighbors and friends might say no thanks when asked if they want to purchase some overpriced gift wrap. But how many grand parents, aunts and uncles or close friends would say no to offering financial support for your reader to participate in a reading program?
Our Readathon also increases the number of people who can and will support your elementary school fundraiser. How? Because our fundraising tools help your readers identify and then contact the best potential sponsors anywhere in the world. With a typical fundraiser you are limited to people who live close by. With our fundraiser the world is your limit. In fact we've received donations from nearly a dozen different countries. It is very common for readers to receive donations from family members who live in different states.
There are so many obstacles for most elementary school fundraising ideas to reach their potential. We believe our program allows you to leap those obstacles and raise more money than ever before.
Read-a-thons Change the Game
We know that just about every student in America has people who care about their education.
We provide state of the art communications tools for your readers to tell everyone they know about their reading adventure and ask family, friends and neighbors to support their efforts by making a pledge or donation. The reader is awarded RAT Bucks for each sponsor they get and they use those bucks to buy prizes after their read-a-thon is complete.
It sure seems like elementary schools raise less money because participation rates have been shrinking every year. Is that what has happened to your school or parent group?
If your elementary school fundraising ideas are growing stale isn't it time to step out there and try something different?
Our read-a-thon tools make this one of the most fun fundraisers available. From our unique reader avatars to our reading session timers and tools to locate the greatest number of sponors we believe you can raise more money for your school with our program than any other elementary school fundraising idea out there.
Things are changing quickly. Look at the way you do every day tasks now compared to just a few years ago. They've changed dramatically, haven't they? So why are you holding on to your old ideas.
We invite you to check out our read-a-thon calculator to see how much money your school can raise. Click here
If you are not convinced that Read-a-thon is the best school fundraiser available we suggest this site for product fundraising ideas.