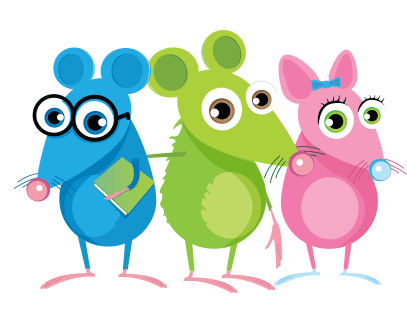 PTA Fundraising Ideas
Are you tired of the same old gift catalog or cookie dough brochure that your PTA has used for fundraising the last hundred years or so?
The sad fact is product fundraising has been in decline for years but there simply have not been many better PTA fundraising ideas that boards were willing to consider. At least until now!
Read-a-thon Fundraising Company has put together a PTA fundraising idea that will make cookie dough and seasonal shoppers obsolete. We have been in the fundraising industry for more than 10 years and we believe our read-a-thon program offers everything any PTA needs to raise more money with a single event than they've ever raised before.
A New PTA Fundraiser That Makes Sense
Here's what one PTA President says about our Read-a-thon program: "This fundraiser was the easiest one we have done yet and it brought in the most money. It was a win-win!"
Before we explain why read-a-thons make so much sense we suggest you check out our read-a-thon calculator to see how much money your school can raise. Click here
Are You Satisfied with Your Current PTA Fundraiser?
Fundraising at the PTA level is challenging. Many parent groups simply default to the fundraisers they've always done. But when asked whether they love their current fundraiser very few will go quite that far.
When asked if they would consider a Read-a-thon many dismiss it immediately. But when told how few volunteers it requires and how much money some PTA and PTO groups were raising many begin to thaw to the idea of trying one.
We asked one large PTA that finally decided to try our Read-a-thon if they were satisifed with the amount of money they raised? Their answer: "Yes we are very satisfied!! They went on to tell us that they made more than twice the money with their read-a-thon than they had ever made before.
Hopefully you've take a look at our fundraising calculator. As you can see, the potential is enormous.
Is It Time to Consider a Change?
So let's get back to you and your PTA. If you are tired of struggling with all the same old fundraisers consider a fundraiser that revolves around schoolwork. You might even chat with your principal and see if they'd partner with the PTA to hold a read-a-thon.
One of the reasons read-a-thons make so much sense for a PTA is that it is completely relevant to parental concerns about both education and fundraising. Parents care more about making sure their kids can read and less about fundraising. This is the best way to kill two birds with one stone. Use parental and family interest in education to raise money and you have a winning combination. Somehow fundraising will seem less obnoxious when it supports education and reading skills.
Presidents Recommend this PTA Fundraising Idea
Here's what a PTA president recently said about their read-a-thon: "I would certainly recommend this fundraiser to others! It required a small amount of work to get it started, but it paid off big time. We loved that the kids were excited to log their reading time and also earn prizes for doing it, and we loved the percentage that you offer the schools."
The best PTA read-a-thons happen when principals allow teachers to hold reading sessions during class. That way PTA volunteers can help teachers get every student involved. When reading is done in the classroom participation rates soar. And the higher the participation rate the more money you are likely to raise. The problem with product fundraisers can be low participation rates.
Our read-a-thon program makes fundraising simple. We provide complete management supervision during your fundraiser. We make sure everyone is on task and provide the information you need to maximize results. We incentivize readers to get more and more sponsors by giving RAT Bucks that readers use to purchase prizes at the end of the event. The more sponsors they get the more RAT bucks they earn.
We make group reading sessions simple with online timers, easy to take class attendance and complete record keeping. So if you're tired of all the same old product fundraisers then consider a read-a-thon.
Here are some great resources to learn more about whether a Read-a-thon makes sense for your PTA:
See how much money your PTA can raise with our Read-a-thon calculator: Click Here
Get the answers to your basic questions in our Read-a-thon FAQ section: Click Here
Get a brief explanation of how our Read-a-thon system works: Click Here
Principals Love This Fundraiser Too!
"Our read-a-thon was very simple and required very little on the part of the staff. We were satisfied with the results of this fundraiser based upon the demographics of our school.
This was a very easy fundraiser. I have already recommended this to several colleagues. I felt the ease of this fundraiser combined with the results makes this the ideal fundraiser for schools."
Thank you.
David Langston
Principal
Crestview Elementary
Other Reasons This is the Best PTA Fundraising Idea
1. When we looked at the universe of PTA's that completed our program last year we found that the average participating reader raised $43.50. Interestingly if the PTA got a reader started using our tools and that reader got at least one donation then the average reader raised $90.07.
2. If your PTA offers a fundraising brochure then this will sound familiar. Typically you get brochures and send them home with the students. You might promote the fundraiser with a kickoff and your teachers might remind the kids in class to participate but you really have no visibility into your fundraiser until the brochures are turned in.
With our Read-a-thon program you get real time visibility so you can see what your students are doing any time during your fundraiser. Using that information we give you actionable tools to increase participation. As you can see from point one, if you can get a reader engaged in the readathon they historically raise more than $90. How does that compare to your current fundraiser?
3. We increase the universe of potential sponsors. We help you reach out to everyone you know with state of the art mail and social media tools and widgets. Now someone on the other side of the planet can support your fundraiser.
4. We collect all donations so you kids don't handle the money and you don't need an advanced accounting degree to create the reporting.
We hope you will consider our Read-a-thon when reviewing PTA Fundraising Ideas!
Here are some reviews on Read-a-thon as a PTA Fundraiser:
Morrisville Elementary PTA
The ENTIRE read-a-thon team was supportive and constantly available to help us with any questions or issues that came up during our read-a-thon. We look forward to holding our 3rd read-a-thon next year and utilizing the new 'reading adventure' themes!
Raised $43,413.00
Evergreen Mill Elementary School PTA
We had a great Read-a-thon this year! We raised the most we have in 3 years. The Read-a-thon reps were very helpful trouble shooting a few little hiccups and always very responsive. It would be nice to be able to easily filter reports. It would also be nice to have additional information on donors- perhaps what state donations are coming from so that we could build in some additional challenges for our students. We have appreciated that the minimum donation amount was lower to $10. That makes a big difference to our school population.
Raised $19,585.00
St Christopher School PTO
This may be available already but an FAQ would be great to have regarding simple questions. Overall we had a great experience so far with this fundraiser and we will certainly do it again!! Thank you.
Raised $17,284.25
East Coventry Elementary PTA
This was an amazing experience! We are thrilled with how easy it was to use the site and how it was all set up. The only issue we ran into was the site lagging behind causing people to add double minutes by clicking to many times. This was important as we were running a contest for most minutes read. Other than that it was wonderful!
Raised $17,215.95
Park Ave Elementary PTA
This was our first time doing a read-A -Thon it was a huge success we will definitely be doing this again next year! We may change the time frame and do it in the Fall and hopefully get more teachers to participate.
Raised $16,655.03
Parent Teacher Enrichment Group for Pinellas Prep
Our read-a-thon went well. This is our third year and this year and last year were about the same. The first year we did much better. The first year had several business sponsors. We will continue to do a read-a-thon because we believe in the no sell approach when it comes to fundraising and prefer the enrichment aspect of the read-a-thon.
Raised $16,199.03